◆Research to real world application.


VANTEK CORPORATION was established in 2006 with the object of extracting banana starch from green bananas, researching its properties and functions, and commercially producing the green banana resistant starch.

Out long-term challenge, development of efficient extraction method, was accomplished in 2012, and the world first banana starch plant was completed in 2014 in Taiwan first in the world.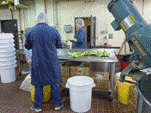 Research on banana starch